From time to time, an On-Ice Official will be giving the signal for a delayed penalty when the non-offending team will cause a violation - such as carrying the ring over the blueline or violating the crease. As a result - play will be stopped immediately and the On-ice Official will call the delayed penalty. However, play stopped because of the violation - and not because of the penalty, and the team that received the penalty will also get the freepass after the stoppage in play.
Ringette Canada Official Rules
NEWS ITEMS
A reminder to teams who may be sourcing new Jerseys at this time. Ringette Canada rules require a Jersey number on both the front and the back of your jersey. The front number must appear on the right-hand side and be a minimum of 3 inches tall in a contrasting color.
"Each player must wear a clearly visible individual number on both
the back and the right front of their sweater. The number shall be a
maximum of two digits and must contrast in colour with the
sweater. The back number must be at least 15.24cm (6 in.) in
height and the front number must be at least 7.62cm (3 in.) in
height. A number different than that on the sweater may not
appear elsewhere on the uniform."
Enforcement of this rule is at the discretion of the on-ice official as to whether or not they feel the lack of front-side numbers would impact their ability to manage the game (ie. identifying goals, assists and penalty assessment). Failure to have a number on the front of your jersey could result in forfeit of a game if the issue cannot be resolved thru alternate jerseys or pinneys.
Katie Schoenborn graduated from College Lorette Collegiate and will be attending the University of Winnipeg in the fall studying for her Bachelor's degree in Kinesiology. In her off time she enjoys ringette, volunteering at events and running her yoga class.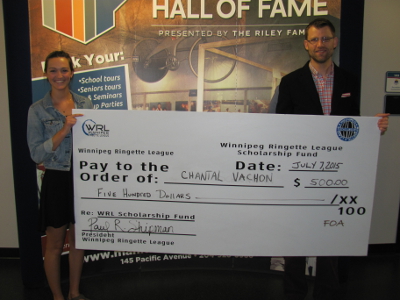 Chantal Vachon graduated from College Pierre Elliott Trudeau and will be attending the University of Manitoba in the fall to study in the field of Agricultural Food and Sciences with hopes of becoming a nutritionist. In her off time Chantal enjoys ringette, camping hiking and spending time outdoors.

Both photos are with Paul Shipman President of the Winnipeg Ringette League.
The WRL is hosting a meeting of Open players on Monday, March 16, 2015 @ 7:00PM. The meeting will be held at the Sport For Life Centre.
Each Open team is invited to send one representative to speak on their behalf.