Only the goalkeeper or the acting goalkeeper (AGK) may legally play any ring that is on the goal crease line or entirely inside the goal crease. Alternately, neither the goalkeeper nor the AGK may move a ring into or onto the goal crease when it is entirely outside of the goal crease.
If either of these rules are broken, play is stopped and the ring is given to the non-offending team.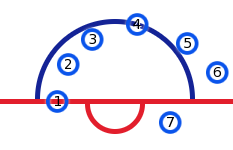 In the above image rings 1-5 may only be played by the goalkeeper. Rings 6 and 7 may be played by any player, but the goalkeeper may not bring the ring inside the crease.
Source: NOCP Rules Supplement & Ringette Canada Official Rules
NEWS ITEMS
The WCRCs 2014 in now offering merchandise for sale!
Please be advised that this merchandise is not available for shipping, and customers should be prepared to pick it up in the city.
The following merchandise is now available at discounted rates:
| | | |
| --- | --- | --- |
| Item | Sizes | Cost |
| Hoodie (embroidered logo) | S, M, L | $25 |
| Sweats | S, M | $20 |
| T-shirt | S, M, L, XL | $10 |
| Long Sleeve T-shirt | XL | $15 |
To purchase any of these items, please email diane.demetrioff@shaw.ca
Per the WRL Rulebook, the WINNING team must call/text or email the final result immediately upon completion of the game. It is recommended that BOTH teams should get in the practice of doing so.
Call/Text 204-771-8739 LEAVE A MESSAGE (Game number, Arena & Score) OR Email: ringette@shaw.ca