"A ring on or touching the blue line is simultaneously in both of the zones bounded by that line and is playable by all eligible players."
When the ring is on or touching the blue line, nearly any player may play the ring and carry it into either zone. The player who last touched the ring may only carry the ring back into the zone where they last touched it, or they can tap the ring to pass it into the other zone.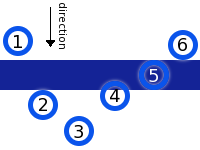 In the image above, the player who last touched the ring may only shoot or pass rings 1,2,4,5 or 6 into the next zone. They may not play ring 3. Any other player may carry rings 2,4,5 & 6 into either zone, and can play rings 1 & 3 normally.
Source: Official Rules and NOCP Rules Supplement
NEWS ITEMS
The 2013 - 2014 WRL 1st half schedule has been released and is available online. ** Please check back often, as the schedule can change over the next week.**
- WRL Scheduler
The MRA Ringette Association in conjunction with Ringette Canada is hosting a 50th Anniversary Celebration on November the 9th at the MTS Iceplex, there will be a CWG Tryout Squad feature game, a U16 A and B Dads and Daughters Game and skills competition events will be held throughout the day at various levels. The schedule is as follows:
9:00 – 10:15: U12 Skills Event
10:30 – 11:30: Ringette 4 U Skills Event
11:45 – 12:45: Feature Game – CWG Tryout Squad
1:15 – 2:30: U10 Skills Event
2:45 – 4:00: U14 A, B and C Skills
4:15 – 5:15: U16 A and B Dads and Daughters Game
We encourage you to come out and cheer on all events going on that day as well as participate in the 50thAnniversary activation festival; events could include a Hardest Shot booth sponsored by the National Ringette School, 50thAnniversary merchandise for sale, Trivia Contest, meeting the Ringette Canada mascots and many other events.
If you are interested in participating in the any of the skills events or the dads and daughters game, please enter online by clicking on the link below and submit back to the MRA Office no later than October 30th.
Skills entry form for November 9th 50th Anniversary event
This event is free of charge. All participants will be chosen by random draw. Anybody participating in the skills events will be entered into the Ringette Canada contest to win a trip to the World Ringette Championships in North Bay, Ontario December 27-January 4th, 2014.
All participants will also receive a 50th Anniversary souvenir jersey.
Seeding for the 1st half of the WRL season has been determined and can be reviewed here:
http://www.winnipegringette.com/seeding.php
If your team does not appear on this list, please contact your local association to ensure that your team gets entered.
Appeals can be considered at any level except for U10. If you wish to appeal, please email president@winnipegringette.com.
Standings

Weather