If, in the last two minutes of regulation time (or at any time during overtime), a player deliberately skates into their defending zone - causing a four-in situation; and then proceeds to get involved in the play while there are still four skaters in the zone - a Penalty Shot is awarded to the other team.
Ringette Canada Official Rules
NEWS ITEMS
The WRL is hosting a meeting of Open players on Monday, March 16, 2015 @ 7:00PM. The meeting will be held at the Sport For Life Centre.
Each Open team is invited to send one representative to speak on their behalf.
The photos from Stafford Photography from the U 14 Skills and the u 19 all-star games on Feb. 16 are now available on-line at:
http://www.staffordstudios.ca/
Prema Man-East Player of the Game in the Boston Pizza U 19 All-Star games
U 19 B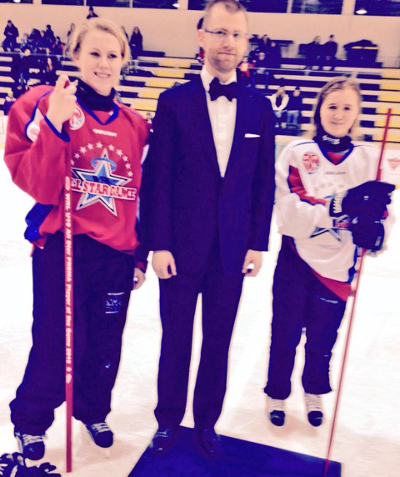 Left to right
Katie Schoenborn (Lorette) Paul Shipman President WRL, Sarah Graveline (Dakota)
U 19 A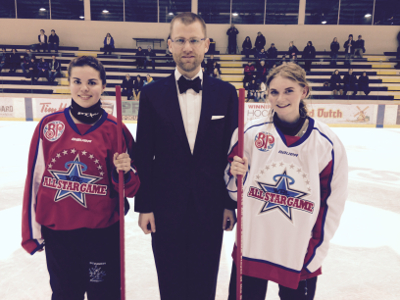 Left to right
Sam Groen (Fort Garry), Paul Shipman President WRL, Signey Shellenberg (Southdale)
Winners of the Vickar Automotive Group U 14 Skills competition
| | | | |
| --- | --- | --- | --- |
| Skill | Team | Player | Finish |
| Hardest Shot | Dakota Storm | Sydney Kreitz | 52 Km/H |
| Fastest Skater | East End Wings | Lexi Ellis | 21.9 seconds |
| Goalie | Dakota Storm | Janelle Kornelson | 87.50% |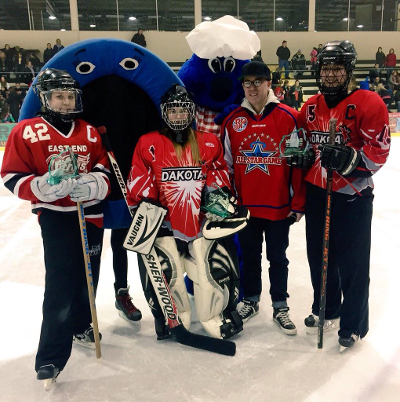 Left to right
Lexi Ellis, Roxie ,Janelle Kornelson, Lionel, Ace Burpee, Sydney Kreitz
Prize Draws
50/50 Red ticket # 711023 jackpot $68.00. Congratulations to Sherry Kamaludin!
Wear your jersey for a Boston Pizza wind up for your entire team
Blue Ticket # 609058
Score for 4 Shooter Game for a Boston Pizza dinner for 4
Green Ticket # 735141 - The winner of the Boston Pizza "Score For 4" game is Melanie Dupasquier of Starbuck. Melanie and her family win a dinner for 4, at any Boston Pizza.
Please contact mediarelations@winnipegringette.com to claim your prize.
As the season winds to a close, we approach the annual general meetings for the league and for the Manitoba Ringette Association. At these AGMs we elect members to the board who will be responsible for the ongoing administration of the league and of the sport for the next two years. If you would like to be part of the team making these decisions, or know someone who would, please consider putting your name forth for nomination.
For nominations for the Winnipeg Ringette League, please forward your name to president@winnipegringette.com. For nominations to the Manitoba Ringette Association, please forward your name to edringette@sportmanitoba.ca.
WRL Positions:
President
Vice-President
Registrar
U10 Convenor
Playoff-Coordinator
MRA Positions:
Vice President
Treasurer
Director of Games and Tournaments
Director of High Performance
Director of Urban and Rural Development
Director of Coaching
Director of League
July 2015
s
m
t
w
t
f
s

1

2

3

4

5

6

7

8

9

10

11

12

13

14

15

16

17

18

19

20

21

22

23

24

25

26

27

28

29

30

31
Standings

Weather